THE CELTIC THUNDER BAND
In most shows, the musicians are anonymous figures in black playing behind stage or unseen in a pit. But the incredibly talented seven members of the Celtic Thunder Band are the backbone of any CT Show and are center stage throughout, championed for their talents and personalities, which is only fitting given the amazing legacy Irish music has given us all.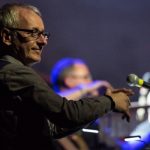 DAVID MUNRO – MUSICAL DIRECTOR & KEYBOARDS
A graduate of Glasgow University, David started his musical life as a concert pianist then turned his attentions to ballet and opera. Over the years David has worked with The Royal Ballet, Scottish Ballet, Miami City Ballet, Singapore Ballet, Mark Morris Dance Company, Jiri Kylian (NDT), Random Dance and L.C.T.D amongst others. A prolific composer, his commissions "The Musical Story Book" for B.B.C. Radio 4 were nominated for a Sony Award in the UK.
David joined Celtic Thunder in 2011 as Musical Director and has toured with the show ever since. He has composed several original songs for Celtic Thunder and is responsible for all musical and vocal arrangements on the recent tours of Voyage, Mythology, Celtic Thunder Symphony, Very Best of Celtic Thunder and now Legacy.
Barry recently released his second CD entitled "Boy In A Boat". His new self-released album Boy In A Boat has been a long time coming. It's been eight years since The World Looks Away, his first album as a singer and songwriter and, as he says, "I've seen a lot of the world in between, often from a tour bus window, and I've wound up back in the country, living on the shores of Lough Neagh, older and hopefully wiser, immersed in nature and with the space for quiet contemplation." As frustrating as the delay must have been, it's also allowed him to focus on making the music that truly moved him and the result is a record which captures the essence of his sound while retaining its accessibility.
It's been a long time coming, but Boy In A Boat combines literate songwriting and top class musicianship with high production values and painstaking attention to detail. The result is an album of which Barry Kerr can be justifiably proud; one which more than holds its own with the big names of the contemporary Celtic music scene.