AN OPEN LETTER FROM SHARON BROWNE
GREAT NEWS IN STORE!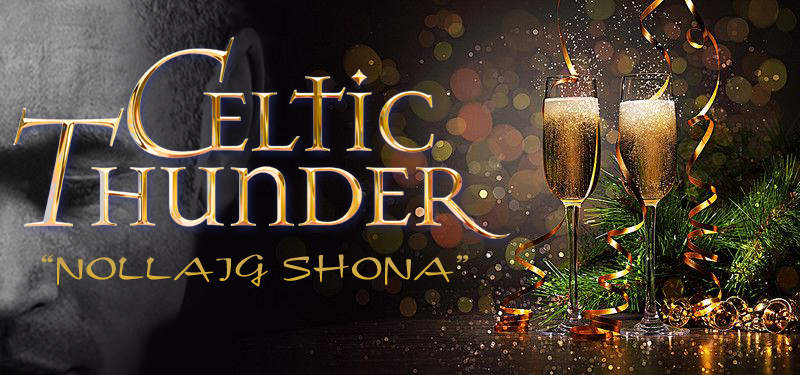 Hello Everyone,
I hope you have been well, that 2019 has been kind to you so far and you are looking forward to the holidays. Firstly, I would like to say I am so sorry I haven't been in touch. Elaine did tell me you were anxious to get news of Celtic Thunder and why was there no new show or tour this year. I gather rumors were even circulating that Celtic Thunder had broken up but thankfully nothing could be further from the truth. We took a well-deserved break this year. Much needed, after 10 consecutive years recording and touring. Though to be honest it has still been a very busy year for all the Celtic Thunder guys.
Wedding fever seemed to hit, with not one but three Celtic Thunder marriages during 2019. Damian and Anna Claire tied the knot on June 1st followed closely on July 27th by David and Heidi and our wonderful Drummer Declan said "I do" to his beautiful bride in 2019 too. I'm sure like me you are so happy for all these newly married couples and wish them all a lifetime of love and happiness.
And as if all this wedding news wasn't enough to have made 2019 a standout year, we got to welcome two new baby Celtic Thunders. Keith and Kelsey had baby Weylyn in May and Neil and Nicole only last week got to welcome baby Fleur to the world. They have so many happy and wonder filled times ahead of them. I read once that "words cannot express the joy of new life" and I agree so I'm not even going to try but I've no doubt you and I look forward to seeing and hearing about the joy these two babies are going to bring Wow… how the Celtic Thunder Family is growing.
Although Celtic Thunder didn't get to tour as a group this year, I know the guys kept a lot of you entertained with their solo tours with Damian, Emmet, Neil and Ryan all hitting the road in the USA and Canada and Neil and Ryan even went that extra mile and travelled all the way to Australia to entertain some of our loyal fans there. I hope many of you got to go to even one of these shows and had a really fun time. Neil and Ryan are working on not one but two new albums at the moment. One is completely new album composed of original tracks and the other is a SURPRISE album that they hope to have ready for their USA tour that begins next March.
I know many of you joined Colm, Laura, baby Oisin and Isla in an Easter tour adventure across Ireland visiting Kilkenny, Killarney, Galway, Dublin and more. In September Paul brought more of you on his 'Home to Ireland Tour' where you got to visit Donegal, Derry, Mayo and beautiful Achill Island. And of course, not being ones to miss out on the fun, Emmet and Seamus brought 80 Celtic Thunder fans on a trip to Europe and Ireland!
I am delighted to let you know that Michael's beautiful voice is back to itself again. I know a lot of you would have been aware of this as he has been sharing some highlights of his new music with the Celtic Thunder Family on social media accounts.
Emmet has also just released a beautiful CD consisting of 5 stunning Christmas tracks. He believes Christmas is a time for giving and helping those in need, so for each CD purchased Emmet is making a donation to the 'North Westmeath Hospice' in Ireland – a charity and care service that I know is very close to the hearts of Emmet and his family. The Hospice is a charity his mom has supported for a long time, so we would all like to thank those who purchased the CD from the CT Online Store.
I should mention the Celtic Thunder Online Store Office will be closing for the holidays from Friday December 20th and will reopen on Thursday 2nd January. You can still order during this period and orders will be shipped as soon as the crew return to work on the 2nd of January.
I'd also like to thank Dec, Elaine and Chris for all their hard work looking after the Celtic Thunder online store and Facebook Page and taking care of you all during the past year. As I said they did ask me more than once to share some Celtic Thunder news with you all but to be honest I didn't want to let you down by promising things that were not guaranteed to happen and hope you understand.
Now if you have managed to read down this far I have some really great news that I can finally share with you. You can watch for Celtic Thunder again on PBS in March 2020 as we will be launching the 'Celtic Thunder – IRELAND' tour, which will commence in fall 2020. We are so looking forward to getting out there and performing together for all of you again with what is going to be our best tour ever. As is tradition, Platinum and Gold fan club members will get the opportunity to purchase prime tickets, VIP passes and Meet and Greets for the upcoming tour before they go on sale to the general public.
Elaine and Dec have been keeping me updated about what's been happening with you guys. I've seen photos of Celtic Thunder parties and birthday celebrations. With one particularly special of a fan in Australia celebrating her 100th birthday. This lady still enjoys nothing more than listening to and watching Celtic Thunder. Her family shared with Elaine that they believe Celtic Thunder helped keep her young.
Elaine has also shared emails from fans that have gone through some tough times in the past year with illness, accidents, and depression, even the pain of losing family or friends. While it is so sad to read about people going through such difficult times in their lives, it is heart-warming and so inspiring to hear so many of you say that Celtic Thunder has helped you through. No matter how many stories like these we read we feel grateful for such wonderful fans. A friend once said to me "By the way, I'm wearing the smile that you gave me" and I thought it was such a great thing to say, and every time I read your emails, I feel very proud and privileged so thank you for the smiles.
I would also like to send special holiday wishes to Carolyn and Sarah Donaldson, we all miss George so much.
I guess now it's time to say goodbye and thank you for reading and hope you have the most wonderful Christmas and best wishes for a very healthy and happy (Celtic Thunder Music filled!) 2020.
Sharon and The Celtic Thunder Family