EMMET CAHILL - 'CHRISTMAS IN IRELAND' TOUR
SEE EMMET CAHILL LIVE THIS CHRISTMAS
EMMET CAHILL – 'CHRISTMAS IN IRELAND' 2019 TOUR
Experience the magic of Holiday Music with Ireland's most Exciting Young Tenor, Emmet Cahill. Having recently sold out New York's Carnegie Hall, Emmet returns to the US to perform all of your Holiday Favourites, as well as classic Irish songs from the Emerald Isle. "O Holy Night", "Have Yourself a Merry little Christmas", "Danny Boy", "An Irish Lullaby" and so much more!
No Emmet Cahill concert is complete without his ever-popular "request medley," which often springs some surprises from the audience! Don't miss this wonderful evening of music that will leave you in the perfect mood for the Holiday Season. Check out Emmet's Tour Schedule for a show near you.
Emmet Cahill's – 'Ireland' is a collection of Irish classics that have been passed down from generation to generation from celebrated Irish tenor and member of Celtic Thunder Emmet Cahill. Emmet Cahill's Ireland offers the very best of the traditional Irish repertoire. Song selections include: "I'll Take You Home Again Kathleen," "An Irish Lullaby," "My Cavan Girl," "Macushla," and more, hand-signed by Emmet himself!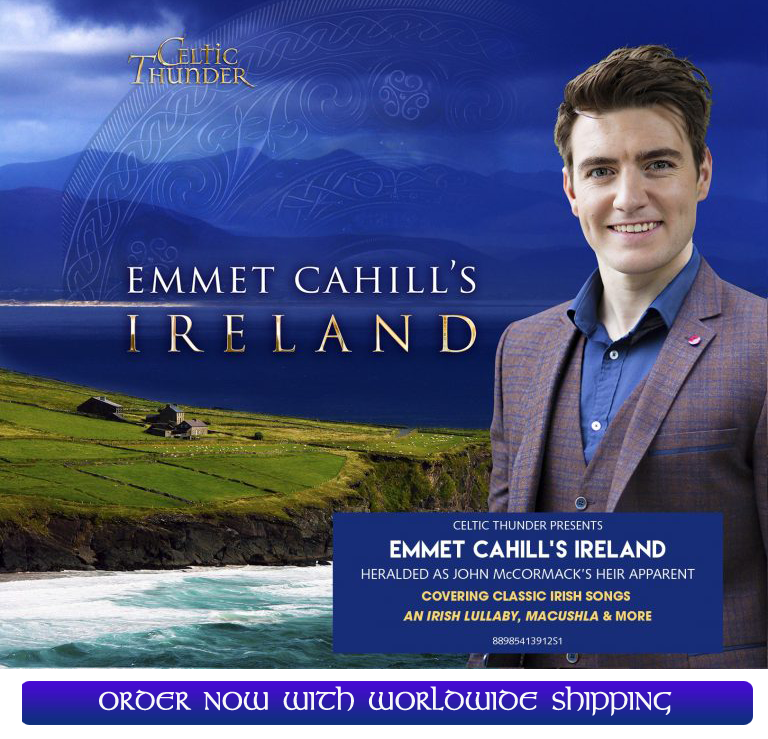 TRACK LIST
01 – Ill Take You Home Again Kathleen
02 – An Irish Lullaby
03 – The Cavan Girl
04 – Macushla
05 – Sweet Sixteen
06 – Danny Boy
07 – Oft In The Stilly Night
08 – When Irish Eyes Are Smiling
09 – Will Ye Go Lassie Go
10 – The Wests Awake
11 – The Parting Glass