CTs 2020 CALENDAR ON PRE-SALE NOW!
WITH SPECIAL FAN MEMORIES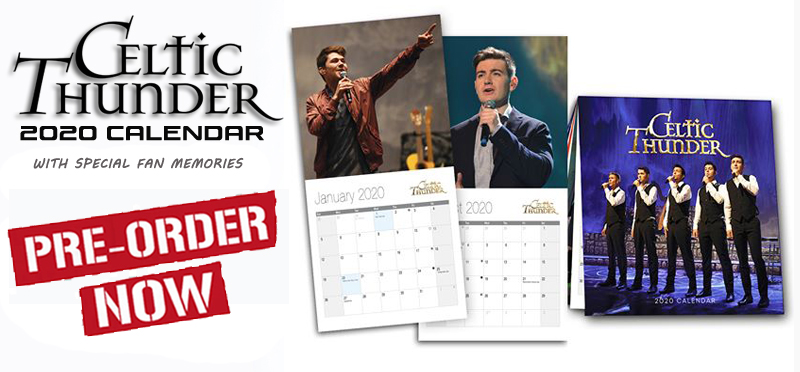 Great News! The Celtic Thunder 2020 Calendar is now on pre-sale for early December delivery. To make this year's Celtic Thunder Calendar even more special, we have included some "Special Memories" from the Celtic Thunder Fans that were submitted, just for this edition. The calendars are 12″ x 24″ when opened, and your favorite can be removed and placed in your favorite 12″ x 12″ photo frame for hanging, placing on the mantel, table-top or desk-top, or save each month and create a Celtic Thunder Photo Wall! Such a timeless tresure makes a great gift item for family, friends and loved ones.
We want to share everyone's 'Special Memory' with Celtic Thunder, so if your photo was not selected no worries! Continue to submit your 'Special Memory' HIGH RESOLUTION IMAGE with Celtic Thunder to Elaine with MEMORIES in the subject line, and we will have them available on the Celtic Thunder Website for everyone to enjoy.
As always, thank you for your continued support for Celtic Thunder, and we hope everyone is excited about the Brand New Celtic Thunder 2020 Calendar as much as we are!