MY CARNIVAL SENSATION SITE VISIT
MY CARNIVAL SENSATION SITE VISIT
Hi, my name is Matthew Browne and in mid April my girlfriend and I went on a site visit on the Carnival Sensation, the ship Celtic Thunder has chartered to celebrate their 10th Anniversary this November. The reason for my visit was to scout out the ship and decide where the best venues and spaces were to have each act play. We have over 70 performances over the course of the Celtic Thunder cruise, and I had to decide where each one would go. I was a little nervous to tell you the truth. Well enough of that, here is how it went!

CRUISE ARRIVAL
I arrived at the port (got there a little early to miss the lines) and check in was effortless. They took my bags and on I went. Everyone was more than happy to answer any questions or queries I had, as this was only my second time going on cruise.
DANCING AT DINNER
Upon boarding the ship, staff let me know the rooms would not be ready for an hour or two, thus I was encouraged to check out the pool deck. Once there it all came to light that this was going to be a fun few days! The sun was shining, music was playing, waiters were dancing whilst serving tropical cocktails (I know pretty impressive), and no matter where you looked all you could see were smiles. Yes I was on a work trip but I had to enjoy myself too, so I kindly asked the waiter for 2 cocktails- one for myself and one for my girlfriend. The ship horn blew and off we went!
FRONT OF CARNIVAL SENSATION
We explored up to the front of the ship with our drinks and just stared off into the distance; there were about 15 other people who had the same idea. The only sound was the wind blowing through our hair; there was complete silence. I think everyone was so taken by the view and knowing that once at sea we would have no phone signal, no email, no calls, and no one to annoy us; it would just be us and the open sea! I really can't put it into words.
After being told the rooms were ready, we headed down to our cabin. We were staying in an interior cabin on the R level of the ship. Being quite claustrophobic I was nervous about this, but was assured by my girlfriend that it is actually fine. Once getting in the room, there was so much space! I couldn't believe it, we were by no means in a suite or anything close, and the room was bigger than a lot of hotel rooms I have stayed in. There was a queen bed with lots of space for hanging and folding cloths and a nice bathroom. I was quite content.
Ok, back to work…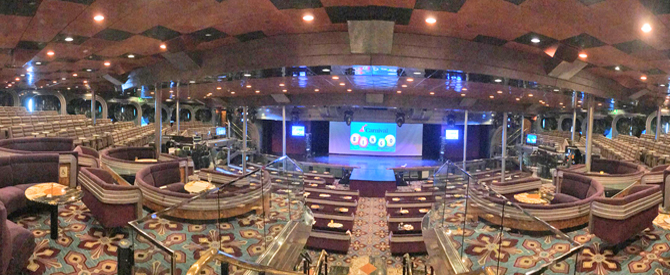 MAIN THEATER
The ship is actually huge; there are bars, theaters, dining areas, event spaces, and venues everywhere. As I was walking along I was thinking in my head, "ok we will have them play here and that band play there!". It was exciting. There were so many places and spaces that were just empty for so much of the day. I thought to myself, imagine filling every space with a different act be it dancing, singing, full shows, solo shows, duets, bingo, cooking lessons, Irish movies, karaoke, etc. This ship will be absolutely rocking!! We have a sail away party planned for the pool deck as we take off this November; Just give the guys a guitar each and plug them in. I tell you one thing is for sure, I would not be staring off the front boat if that was going on! Haha

LIDO RESTAURANT
Dining on the ship was amazing. Each night we got all dressed up and went for dinner. The first night we were seated at a table by ourselves. We enjoyed a nice bottle of wine and a steak dinner; it was absolutely superb to say the least. The second night we requested to be placed on a table with a big group and it was an absolute blast. We made friends and met so many interesting people from different walks of life. (We actually still speak to some of them now and they have even invited us to stay with them in Florida if we are ever there!)
CARNIVAL SENSATION KITCHEN
It got me thinking, how does the chef on board the ship cater to this many people and still make every plate so presentable and delicious? I had to find out for myself. I spoke to some people on the ship and managed to get a tour of the kitchen. I then met Chef Suresh. He walked me through the kitchen and the process on how it works was incredible to see. Every meal is cooked to order. I'm being honest now as I say I stood and watched the entire process and the meals were literally flying out the door. Suresh explained to me that it's all down to systems.  Everyone has a specific job and when everyone works together, this is the result.
STOPS ON BOARD THE SHIP:
COZUMEL, MEXICO
Surrounded in its entirety by beautiful coastline and endless stretches of sandy beaches, the main tourist attractions on the island of Cozumel and often based around this area. Anyone with a love of water sports won't want to ever leave Cozumel, since there is so much to do. Popular water sports in Cozumel include water skiing along the coastline, scuba diving around the glorious corals reefs of the Arrecife Palancar, snorkeling off the Playa San Francisco, and both sailing and yachting. Within the Chankanaab National Marine Park, it is even possible to swim with friendly dolphins, at the Dolphin Discovery attraction, while for others it is possible to sight-see beneath the water's surface in Atlantis submarines. More information about Cozumel Tourist Attractions.
ROTAN, HONDURAS
The minute the ship docked we packed a bag and left the ship. The atmosphere was amazing, the sun was out, and everyone was in the bars dancing and singing. We took part for about an hour then headed off to our excursion. We pre-booked the catamaran. It was quite reasonably priced, I think around $75.00 per person. It included snorkeling followed by bottomless drinks on the boat, then two hours of bottomless drinks on one of the most incredible beaches I have ever seen.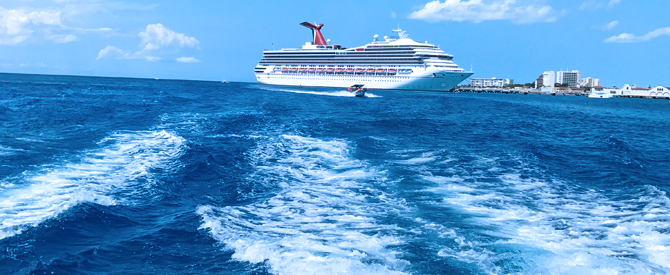 I would highly recommend this to anyone looking for a slice of paradise whilst off the ship.
To conclude my trip on the Carnival Sensation, I absolutely loved it. Everyone was so friendly and helpful no matter what we were inquiring about. The rooms were cleaned spotless everyday and even the gentlemen who cleaned the room greeted us by name- same when we went dining each night. They really go that extra mile to ensure your vacation is everything you wanted.
I cannot wait to get back on the ship in November, having so many acts, performances and like-minded people on the same ship for 6 days and 5 nights. It is going to be an incredible 10th anniversary for Celtic Thunder. Hopefully we will see you there.
Best,
Matt