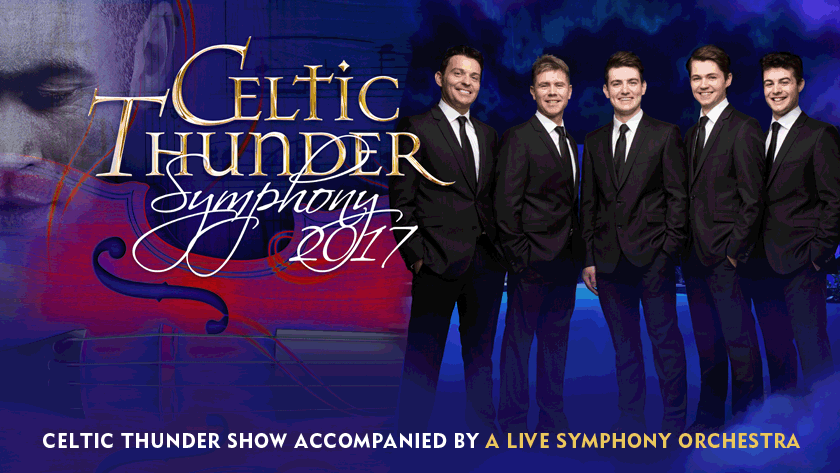 Celtic Thunder are delighted to announce their 2017 Celtic Thunder U.S. Symphony Tour. The announcement arrives as Celtic Thunder are preparing themselves for a hectic month of March, centered around Public Television pledge events, and a live appearance on the TODAY SHOW on St Patrick's Day. The Symphony Tour will start at the Filmore Miami Beach, FL on November 14th, following Celtic Thunder's 10th Anniversary Cruise. Celtic Thunder will remain on the road through to December the 17th touring the East Coast and Mid West in the US. Playing in Miami Beach, Clearwater, Orlando, Fort Pierce, Jacksonville, Sarasota, Atlanta, Hershey, Morristown, Englewood, Westbury, Bethlehem, Upper Darby, Mashantucket, Lynn, Milwaukee, Chicago, Detriot, Minneapolis, Pittsburgh, Carmel, Thackerville and more to be announced soon!
The Celtic Thunder Symphony Tour will be the show's 10th tour of the USA since it was launched in 2008.
This will be the second Symphony Tour for Celtic Thunder, who will depart from their traditional and critically-acclaimed large set productions to perform hit songs from their Legacy, Mythology, Voyage, The Show & It's Entertainment Shows along with songs from their chart-topping albums, Christmas & Classic Christmas and their upcoming Celtic Thunder Inspirational album due in the Fall of 2017, in a dynamic live music experience accentuated by the instrumentals of full symphony orchestras. Celtic Thunder's five male soloists Damian McGinty, Ryan Kelly, Emmet Cahill, Neil Byrne and Michael O'Dwyer will perform solo and ensemble numbers.
Check out the Celtic Thunder SYMPHONY TOUR 2017 schedule on the Celtic Thunder Official Website.